The 22e demi-brigade de ligne on campaign in 2018.
(Click on the images to enlarge.)

To conquer foreign lands — to seek out new enemies and new countries — to boldly go where no French soldier has gone before.
Kapellendorf, from 13 to 15 April 2018.
Our first gathering this year. We thoroughly refreshed our knowledge of the drill, gave a new coating to our hats in order to stiffen them, repainted all our leather belts with a mixture of pipe clay and arabic gum, and cleaned and repaired also the other parts of our equipment.
The night was pleasant. Le Fleuri had a shave, which attracted the interest of everybody. In the end, having paid a lot of attention
to our leather belts, we just looked brilliant in our culottes and gaiters. Our sergent Rôtisseur was very pleased.
Neuf-Brisach, from 31st August to 2nd September 2018.
The grenadiers Sans-Souci, La Cravate and Belle-Humeur passed a relaxing weekend in the French fortress Neuf-Brisach. In the first skirmish we acted as the guard of a 4pounder gun of the 1er régiment d'artillerie (our former battalion artillery), but for the rest of the time we concentraaed on bringing our knowledge of the manual exercise to perfection.
Of course, we dedicated our time not ony to drill, but also to our favourite sutlers.
Beichlingen, from 14th to 16th September 2018.

How we were seen by the Prussians and Saxons.
Commanded by our sergent Rôtisseur and our caporal Bras de Fer, we had a great time in the surroundings of the little village Beichlingen and its castle. During the whole Saturday, we were marching and skirmishing, in a beautiful landscape and with intelligent opponents.
Grenadiers in bivouac and on the march.
And grenadiers skirmishing.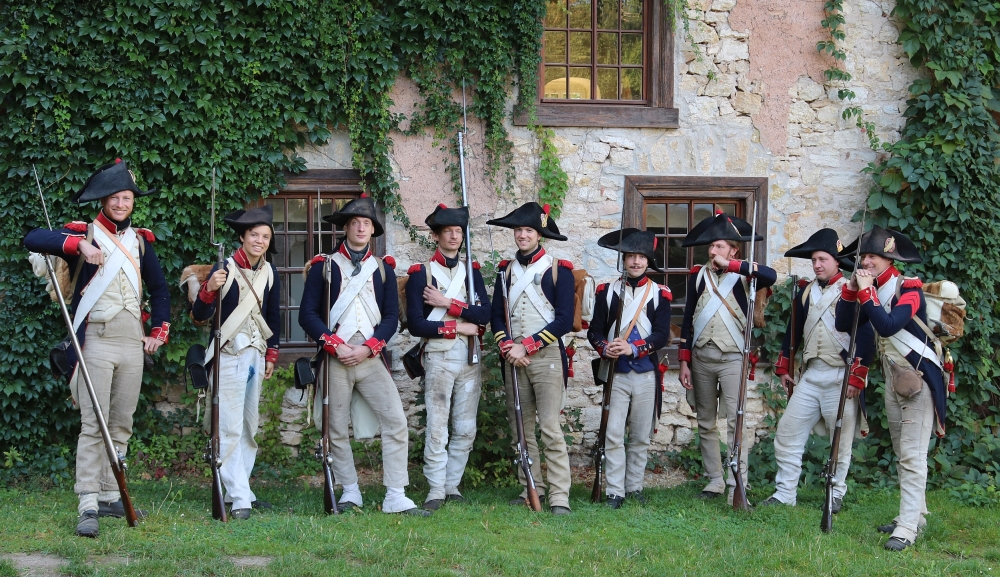 Pas-Perdu, François, Trompelamort, Champagne, Bras de Fer, Belle-Humeur, Rôtisseur, L'Agitateur, Sans-Souci.
Many of the photos of Beichlingen have been made by Claudia Behnke, Marie-Luise Donath and Sarah Götze. Many thanks !
Leipzig, from 19th to 21st October 2018.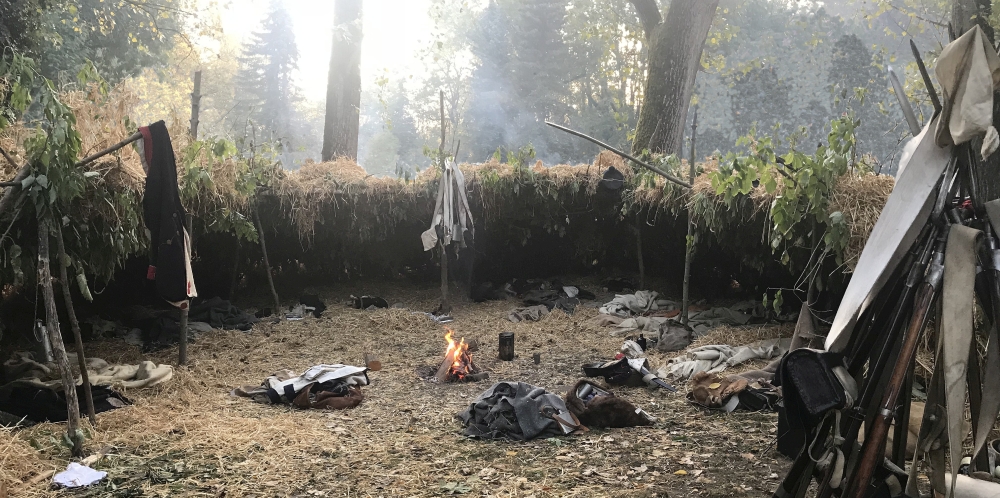 The shelter of our combined peloton at Torhaus Dölitz, during the morning assembly.
Caporal Rôtisseur and seven grenadiers of the 22e de ligne, together with four fusiliers of the 7e de ligne, one fusilier of the 33e de ligne and six fusiliers of the 85e de ligne, formed a combined peloton. For the duration of the battle, five men of the 12e de ligne joined us.
The battle was dusty, the night cold, the instruction boring. But our mood was excellent as always.
Military School at Zeilitzheim, from 2nd to 4th November 2018.
A skylark and a peacock, coffee time,
and a Maltese Falcons with peacock.