The 22e demi-brigade de ligne on campaign in 2017.
(Click on the images to enlarge.)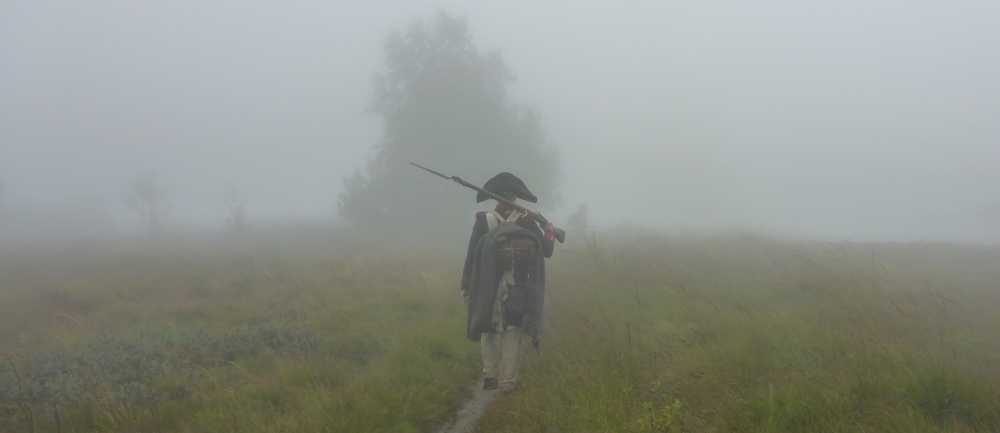 One of our adventures this year: our two days' march through the Black Forest: in sunshine, rain, rainstorm and fog.
Porcia and the Crossing of the Tagliamento, from 28 April to 1st May 2017.
The crossing of the Tagliamento took place on 16 March 1797, so the 220th anniversary was a little bit late. Still it was fun. Six grenadiers of our demi-brigade had come down into the fertile plains of Italy, to help taking them away from the Austrians. Our headquarter was in the Villa Correr in Porcia.
We enjoyed the sun, resting, joking, mooting, and the shade.
Apolda, from 9 to 11 June 2017.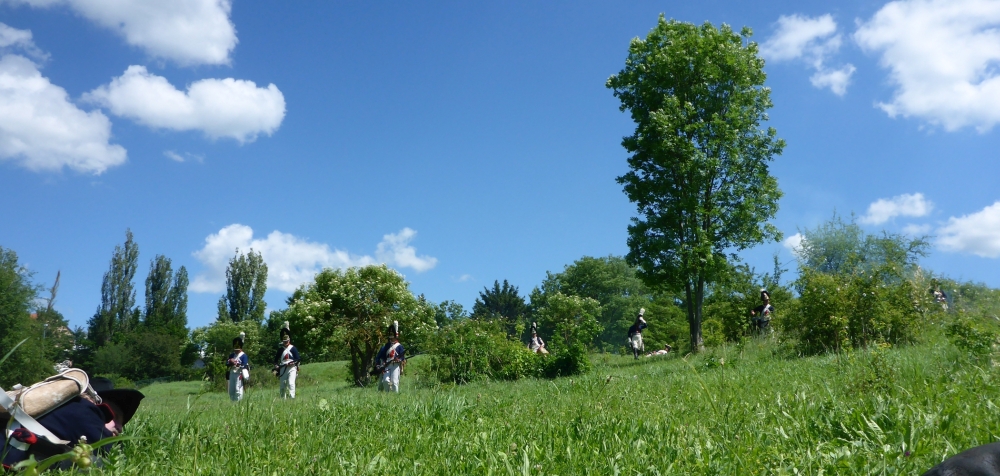 The Prussians thought they could run us over by a frontal attack of a thin skirmisher line.
A small detachment of Prussian infantry was announced to be hidden in the town of Apolda. We marched there to disloge them. An easy task. In order to be able to form up very quickly in case of a counter-attack, we were not quartered with the local citizens, but stayed in a bivouac near the city castle. Our sergent was the first to be there, and on our arrival we were welcomed with delicious beer, a good pipe, and fresh straw to lie on. Our Prussian prisoners were very kind to us, and we nearly felt like being their guests.
We indulged in the grenadiers' pleasures, set out sentries, visited interesting places
and refreshed our knowledge of the drill regulations.
The next morning, we got up early. Our sergent Rôtisseur had decided to make an inspection of the contents
of our backpacks, to see whether our equipment was complete.
Patrol through the Black Forest: from Baden-Baden to Mummelsee, 30 and 31 August 2017.
Three grenadiers were detached for a reconnaissance march through the Black Forest. The first day we marched from Baden-Baden up to the tiny Sandsee (Sand lake, but more a pond than a lake). Here we spent the night in the open. When we arrived, it was too late to collect materials for building a shelter, so that our only protection against cold and rain were our blankets. At one time, we had to shift our sleeping place, because a little current, which had spontaneously come into being, decided to force its way to the lake dircetly below our makeshift beds. The next day we continued our march over several heavily clouded hilltops to Mummelsee, where our assignment ended.
The first marching day was sunny and warm, maybe even a bit too warm. We marched, discovered the nature, marched on, had a rest,
marched on, refreshed ourselves with a delightful bath in the cold water, marched on, recovered our strength by eating pain de munition,
and marched on.

The night was terrible.
But nothing can bear down a grenadier ! Through gentle rainfall, fog of varying densities, sometimes lightened
by heavy rainstorms, we undefatigably continued our march and reached our destination in jolly mood.
At the Göhrde, from 15 to 17 September 2017.
We took the opportunity to reunite again and belatedly celebrate Le Tabac's birthday. We were also rewarded with a very interesting skirmish in a little village, against active and venturing enemies, which compensated us for the uninspired battle on a plain field which followed.
Together with friends, in a happy mood and with an excellent soup, there is not much more a grenadier could wish for.
Led by our sergent and our caporal, we criss-crossed the battlefield many times.
(The photographs in this frame have all been made by Andreas Springer. Many thanks !)
Auerstedt, from 20 to 22 October 2017.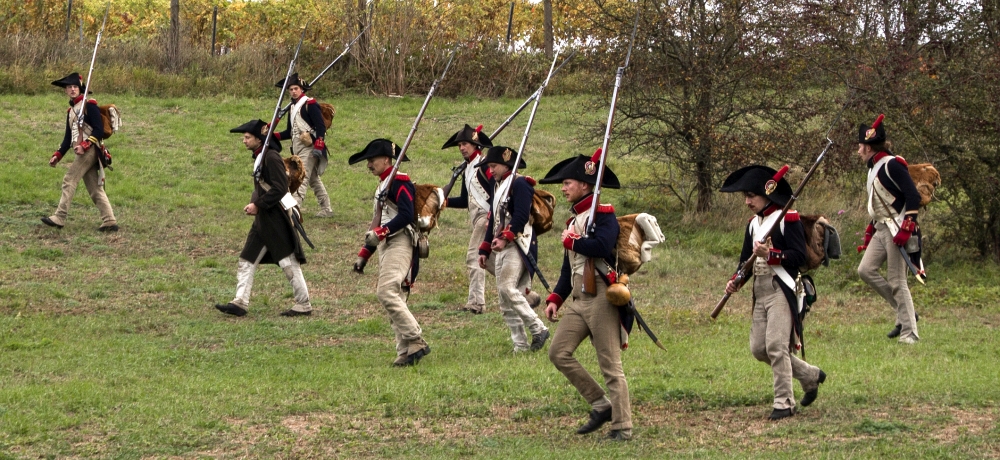 En tirailleurs, en avant !
In order to defend the freedom and independence of France at the river Neman, we marched eastwards. At Auerstedt, feeble Prussian forces tried in vain to stop us. Even though acting mainly as tirailleurs, we just overrun them.
For cleaning our weapons, we could chose between four different types of oil. No wonder our muskets worked perfectly.
(Some of the photographs have been made by Michael Strohschein and Claudia Behnke. Many thanks !)